Most of our competitors provide a service where they will remove your car or van engine and replace it completely with a reconditioned engine from their stock.
Our approach is different, we will remove, recondition, and then replace the original engine from your vehicle. This means you get to keep the serial numbers and engine codes originally associated with your car and van. The continuity this provides retains benefit and value to your car or van should you wish to sell or part exchange the vehicle.
We always use OEM parts to provide the highest standards of reliability possible unless instructed otherwise by our clients.
The Reconditioning Process
Once you have accepted the Customer Order we will arrange for your vehicle to be recovered to one of our state of the art workshops.
Your engine and all associated parts are then removed and inspected.
Both cylinder head and block are dismantled into their component parts. All worn or broken parts are replaced as part of our quality control system.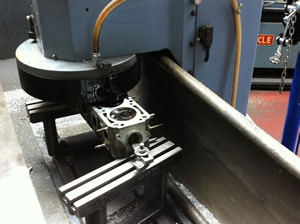 The parts for reassembly pass through our specialist cleaning process. At this point all items that require machining are engineered to our exacting specifications. Machined parts are cleaned and measured prior to reassembly
Your original engine is then rebuilt using new bearings, seals, piston rings and gaskets. Once fully assembled the engine is replaced into your vehicle with new fluids and filters. The engine is then started and road tested
The Guarantee
Our workmanship and materials are both guaranteed. Depending on the workshop, either the first 12 months from the date of purchase, or 12,000 miles if sooner, or a 6 month unlimited mileage warranty will be provided. In the event of a failure we will replace either the engine or parts free of charge and at our discretion.
It is a requirement of the guarantee that your vehicle is serviced after completing 500 miles with the reconditioned engine. You will be asked to evidence this in the event of an enquiry..